Advantages for individuals:
Filling lives with joy through creative participation in community life and its festivals.
A feeling of renewal and of rootedness in one's culture, in harmony with the natural cycles of one's home. A fresh sense of the natural beauty of the environment.
Rediscovery of one's village, re-creation of links among people. Better organisation of one's life and time through the professional and personal services offered by community members.
Actively taking part in the creation of the cultural environment on personal, community and regional levels.
Advantages for the community:
Reuniting residents at festival times and enabling them to be active participants in revitalising community life.
Boosting the community's economy through the development of contacts among residents, leading to increased use of local professional services.
Attracting members of other communities to take part in cultural events and help boost the economy.
Fostering cultural exchanges between communities.
Creating a basis for future developments.
Advantages for Europe:
Reinforcing and promoting the great variety of cultural identities of communities and regions, and guaranteeing their vitality.
Revitalising the feeling of common European cultural roots.
The Dance Lime Tree makes a fine symbol of the links forged between twinned European towns and villages.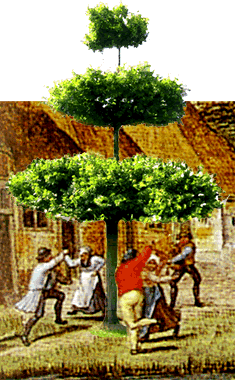 Collage, dancers of Bruegel
and modern Dance Lime Tree