The Dance Lime Tree project is aimed at city neighbourhoods, villages, and local societies.
Its goal is to revitalise European villages with Dance Lime Tree events and the eight annual Nature Festivals, resulting in a renewed role at the community centre for the Tree. For years and centuries to come, the Tree will be part of the village, facilitating the transmission of traditions and cultural heritage.
This cultural project helps to reinforce identification with one's community. It reminds villagers of nature's cycles, and recreates feelings of being rooted in one's home. It also provides concrete opportunities to enliven village life through lively festivities.

Click to see the advantages a Dance Lime Tree can bring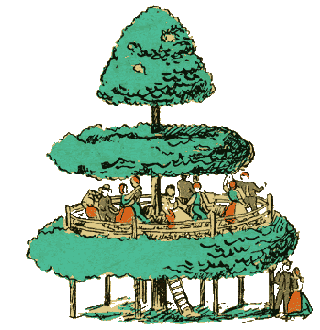 Drawing (detail) H. Tode, 1953.