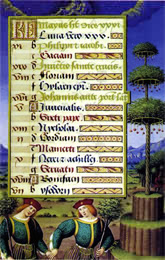 Book of hours.
Dance lime trees have come down to us from an extremely ancient European tradition. The earliest representation of a dance lime tree is found in Anne de Bretagne's celebrated Book of Hours, which dates from 1508 and is kept in the French Bibliothèque Nationale. Dance lime trees also figure in paintings by the Flemish artists Pieter Bruegel the Elder and Pieter Bruegel the Younger, as well as by Lukas Taffle.
Arnold van Gennep, the great French specialist of folklore and ethnology, describes a very old lime tree that survived until the end of the nineteenth century in the northern French village of Lynde. The tree, which had a double crown and a multitude of intertwining branches, was surrounded by a sort of platform. A few exceedingly old and rare dance lime trees® still grow today in various parts of Germany, Belgium and Holland.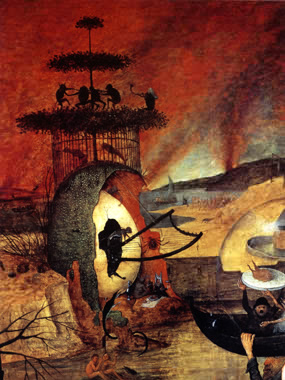 Pieter Bruegel the Elder. Margo (detail).
Dance lime trees were planted in the centre of villages. One or more platforms, supported by wooden structures, were built around their trunks, and these were used for dancing. Rope-makers, who used lime tree bark for their ropes, were the first to build platforms in lime trees in order to facilitate their work. Over time, these platforms began to be used by the villagers for dancing, and little by little they became places where festivities occurred, and where people gathered to dance.